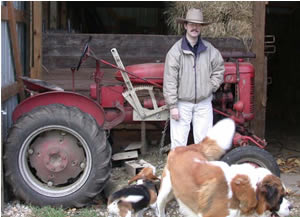 Chicago Pen Club member Roger Wooten lives in very rural northern Illinois, about 35 miles south east of Janesville, WI, the historical home of the Parker Pen Company.
This area is deep Parker pen country, however Roger collects Sheaffer pens.
Roger lives in Garden Prairie, IL on a spread of 11 1/2 acres, surrounded by a few hundred more as wide and flat as Nebraska.
Approaching Roger's country home I turn off a county road to a less traveled gravel road, which only recently qualified by the County to be given a name. This road runs into and ends right at his driveway. Perhaps Roger likes this isolation for privacy, maybe he simply appreciates the quiet, the nature and the reminder of the generations his family has worked the land in Illinois. Here Roger lives with his wife Christine, his 2 year old son Nick, a Beagle named Bailey, Sasha the Husky, Sam a three year old St Bernard, 3 house cats, 4 barn cats, one love bird and his Chestnut horse "Pistol".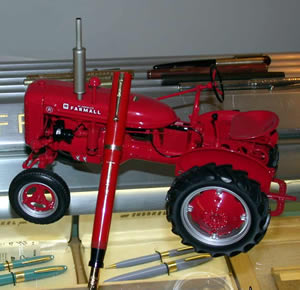 Pens came early to Roger, at about age 15 his Uncle conducted farm auctions and would give him the fountain pens he found. One of his earliest was a Sheaffer green school pen, so it appears brand loyalty had a great influence on his focus in later years. Roger, being the tinker, would promptly disassemble the pens to find out how they worked, and put them back together again. He claims this was a lot easier than restoring his vintage farm tractors. His tractor collection includes a 1947 International Harvester Farmall A, a 1948 Farmall M and a 1950 McCormick-Deering W9.
When Roger was 15 years old he repaired his first pen, a Parker Vacumatic for his future brother in law, who introduced him to the world of pens.
A bit more complicated than other pens with more parts, he managed to remove the filler and wondered about the marvel of this puzzle. Roger actually managed to repair the Vacumatic and replace the sac, restoring the pen to working condition. At about this time in 1984 he discovered the Pen Fancier magazine, then the only source for pen tools or parts and found this to be his primary source for pen information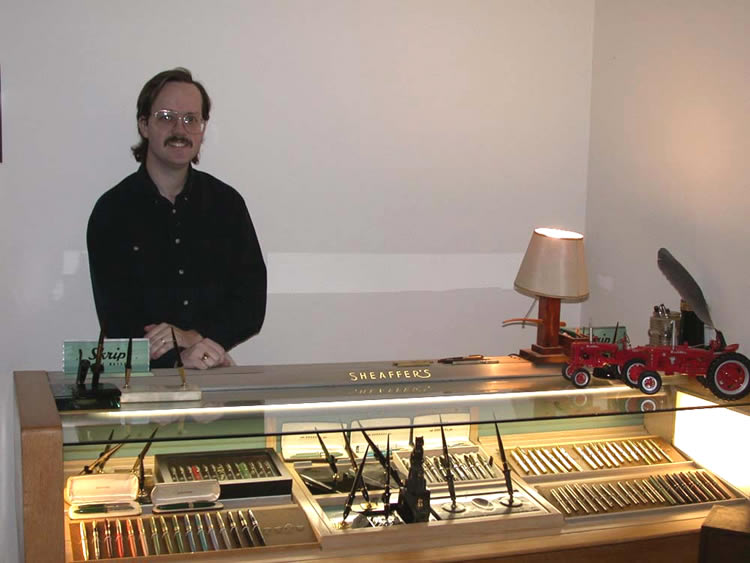 1960's Sheaffer display case and collection
Roger now has about 240 pens in his collection, with a focus on earlier Sheaffer pens, along with flat top models. Roger is an accountant, so he is meticulous about accurately documenting the history of the pens in his collection. He collects early Sheaffer advertisements, original and copies of company catalogs and literature to add to his archives. Attending the annual Chicago Pen Show, Roger buys and trades with friends and also secures his pens from internet auction sales.
Some of his earliest lever fillers are quite unusual in their exceptional condition, including a rare #2A red and black mottled hard rubber which is illustrated in the 1912 – 1914 Sheaffer product catalog. This mottled material was common with other pen makers at this time, but is very scarce in Sheaffer production. It may be that Sheaffer just did not want to produce the same appearance as everyone else, and desired to produce a distinctively different chasing pattern for their own identification. The most immediate recognition of Sheaffer pens, was their lever filler, until eventually copied by many other pen makers. One attempt was even made by Parker, which was quickly discouraged by Sheaffer attorneys.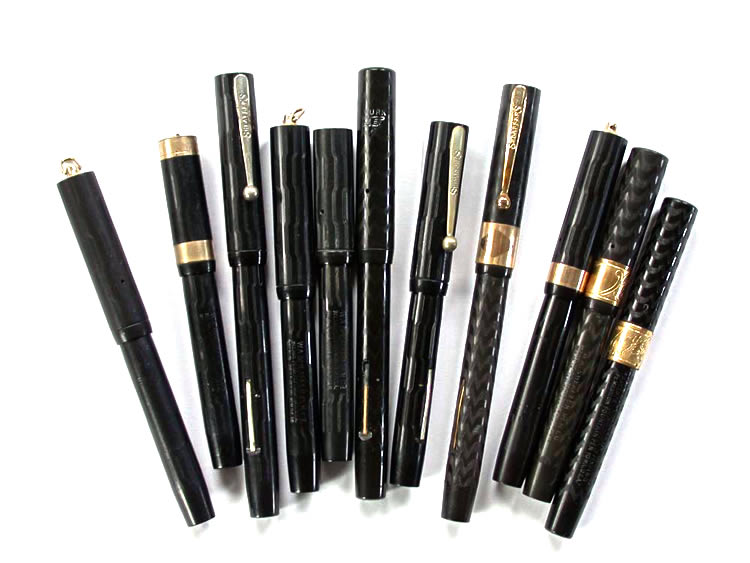 Assorted early Sheaffer and black hard rubber pens
Roger's flat top collection includes a very impressive assortment from standard to oversize Lifetimes, with no less than all three hard to find red Secretary pens, including the ring top model. Roger would like to maintain his collection with focus on pens up to the 1930's as this was probably the height of outstanding pen design, influenced by the deco and modern arts period of the time. An outstanding example is his 1922 oversize Lifetime with a beautiful vertical wavy line chasing with a secretary nib. Another is a circa 1915 gold fill filagree overlay. This also is a very hard to find pattern, especially in this condition.
Roger has discovered that some of his high end flat tops actually have the lever fillers attached by rings inside the barrel, rather than the standard pin attachment, the pin holes can be easily seen on the sides of the levers. It has been suggested that these flat top pens were only made to the end of 1929, however Roger believes they were actually produced into the 1930's.
Another exceptional pen in his collection is a 1940 Crest Honor Masterpiece pen. This is shown in the 1940 Sheaffer catalog, produced with a 14K Masterpiece cap and described as a Lifetime Feather Touch, priced at $42.50.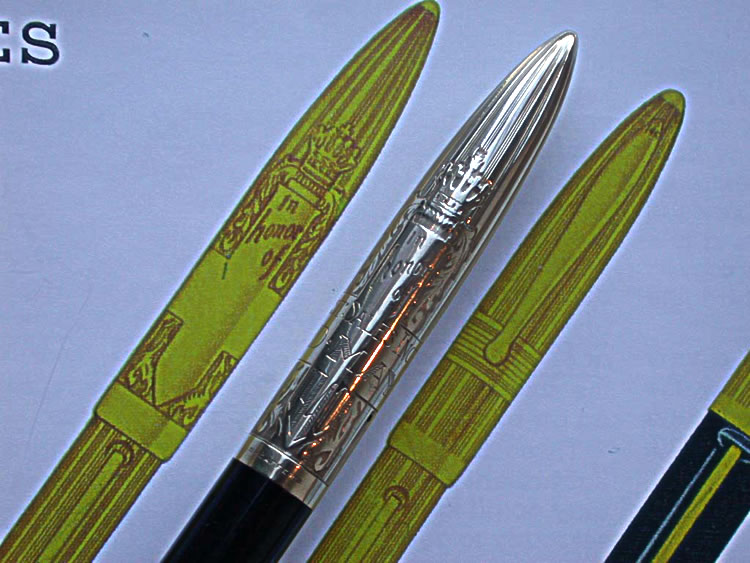 Crest Honor Pen, 14K Masterpiece cap
Wahl oversize and pre-Doric are the next target of Roger's focus. He has already secured a few very nice mottled and wood grain oversize Signature pens.